Agricultural contracting is well established in the UK, especially crop packaging businesses, unlike parts of Europe, where traditional farming is still predominant. Many larger scale contractors in the UK are now solely in the business of providing a service for others, though the majority of baling and wrapping contractors continue to farm and run their contracting business alongside their own farming, providing wider income opportunities.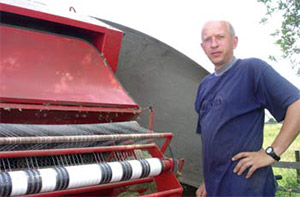 John Henry Troop, of Barnby near Newark in Nottinghamshire, is a perfect example a varied agri-business, running a 220 acre farm with 100 head of beef cattle alongside a successful and very busy contracting business. Drilling and mowing over 500 acres a year, as well as baling up to 10,000 round bales each season keeps John busy, though he leaves the wrapping of silage bales to a neighbour, with whom he often works 'in tandem', whilst his own combine needs are handled by another neighbour on a normal commercial arrangement.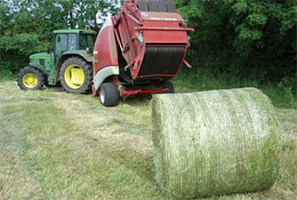 "Round baling has become a very busy part of my life, once the season begins", easily handled by the Welger RP520 that John presently operates, of which he is enthusiastic of its capacity, speed and ability to produce good bales. "I started off round baling in 1987 with an old Massey Fergusson belt baler, with a twine tying system, which was so slow. This was soon changed to a much more capable John Deere 550, with a netwrap system that speeded things up enormously, making 35 bales per hour compared to only 20 in an hour with the twine".
Making up to 10,000 bales a year needs a pallet of netwrap at least, so John is enthusiastic of the longer length rolls that are now available on the market, especially the Edge to Edge 4500m. "I have tried many types of net over the years and prefer the longer rolls as this means less changing rolls in the day" says John. "Last summer I tried a roll or two of 2,500m net.