A dairy farm in Israel has halved production costs, increased milk yields and boosted profits with the introduction of robotic milkers.
Achieving a herd average milk output of 12,000 litres/ cow and a profit margin of more than 25% before investments is no mean feat. Achieving that with summer temperatures topping 40°C is even more impressive.
Such is the data from one of Israel's leading dairy farms, where go-ahead manager Doron Shalem is harnessing modern technology to push dairy output. Located on the edge of the fertile Jizreel Valley in western Israel the enterprise required nine staff to run 300 cows through a traditional parlour to meet a three million litre quota 10 years ago. "We were barely making any profit," Mr Shalem reflects.
When new environmental protection rules were set by the government, the opportunity to include robotic milkers in a new dairy building was seized. The resulting £1.35m (8.0m shekel) investment, supported by a £170,000 (1 .0m shekel) state grant, provided zero pollution housing and four Lely Astronaut robotic milkers. Production costs have almost halved, down 28 pence to 29p/litre, leaving a margin before finance of 9p/litre. Israel's milk market is not subsidised, but has been controlled by quotas since the 1970s, with direct market controls introduced in 2011. The milk price, currently 37p/litre is fixed centrally with quality premiums over 3.3%, protein, 3.70% fat and for somatic cells counts below 220. The price is reviewed quarterly, to reflect feed and labour costs, with a standard 2% efficiency gain assumed each year to drive innovation. Milk retails for £1 /litre.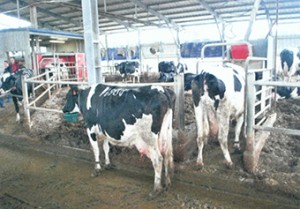 Typical TMR ration (kg)
Blend
0.94
Rapeseed meal
0.76
Soyabean meal
1.76
Ground maize
4.00
Sunflower meal
0.55
Cotton seed
1.10
Wholecrop wheat
12.00
Maize silage
2.50
Sorghum silage
2.00
Wheat straw
0.90
Lucerne hay
0.80
Protected fat
0.45
Bicarbonate
0.12

"For good dairy farmers in Israel profits of up to 25% are possible, excluding investment," comments Mr Shalem.
The new system helped halve labour costs to £85,000 / year. Milk yield also responded, lifting the herd average from 10,500 to 12,000 litres/ year, allowing herd size to drop to 250.
The dairy is part of a large farm, with cropping and intensive livestock in the fertile valley and beef on hill pasture. But farming is just one aspect of Mishmar – HaEmek kibbutz. It also owns Tama, a world manufacturer of bale netwrap and twine, which uses the farm to evaluate new products, making thousands of bales each year to assess crop, baler and netwrap interactions, as well as benchmarking competitor products.
Baler manufacturers also us the farm for joint development work, in a bid to create an overall crop wrapping system to better serve farmers, says commercial director Aviv Linn. Data collected ranges from netwrap durability to forage quality after storage. "We are farmers ourselves, so we know what farmers want," explains netwrap manager Yair Arzi. "We have the full cycle, from farming, through the dairy and to the factory, so our farm and our fields help us provide the trouble free reliability we know farmers are seeking."
The latest development is TamaNet Edge to Edge™ 4,500m the world's longest ever round bale netwrap. "lt means even less time wasted reloading the baler, with two rolls enough to keep baling all day" explains Mr Arzi. Full commercial launch in the UK is expected in 2013.
Forage from the evaluation programme goes into a centralised feed centre, which provides a total mixed ration according to the computerised feed programme run by Mr Shalem. "We buy a complete feed, drawing on up to 17 raw ingredients-effectively providing a catering service for cows twice a day."
Cost of a typical ration (see table), including delivery and feeding out, is £4.74 a day for a 35 litre cow.
To help cows cope with 40°C plus summers roofs automatically open at night and when direct sun is absent, huge cooling fans ventilate the building, and smaller integrated fan/sprinklers cool individual cows. Providing better quality forage can help maintain feed intake. Even so milk yield typically drops by six litres/day.
Water is also a significant issue, both in availability and cost. Forage content is typically kept to only about 30% of the diet. Furthermore, most protein sources and grains are imported, so a wide range of ingredients is drawn upon to counter any supply or price issues. Roughage is typically 15kg/day, comprising 3kg maize silage and 12kg wheat silage.
Getting the best from the robots demands careful attention, Mr. Shalem stresses. "The key is to encourage cows to enter the unit, by providing the right environment. Feed that tastes good and meets their body needs, especially for energy is very important."
Concentrate feed is supplied in the robots according to individual milk output, cow condition and stage of lactation. Total supply ranges from 4.okg to 5.okg for a 20 to 30 litre milk output up to 8kg for 60 litres.
If cows fail to eat what is offered, their allocation is carried to the next day. Typical variance is 3% to 5%, so if consumption wanders further than that, an investigation into likely causes is undertaken. "A cow can eat 300g of feed per minute in the robot, so if it is ejected after five minutes of milking, it won't have had its full allocation, so goes to the adjacent feed box to see if it is entitled to more."
The feed is formulated to encourage cows to visit robots little and often, for optimum milk output. For the first 30 days of lactation up to seven visits may be made. "We need to manage that and ensure other cows get access too. Computer-controlled feeding ensures that happens."