Tama Innovation
15/12/
2014
The word "innovation" is one of the buzziest words in the last decade, but what does it actually means? And how do we actually innovate? Read more
It is clear to all of us that technology is developing rapidly and that people embrace new technology faster than ever. We all agree that if a business or organization will not move forward, and change, it will not survive. Yet, it is not always clear to us what should we do in order to achieve innovation, and even if we know what to do, making a change is not that simple…
Starting my new job, as innovation manager at Tama, was not an easy mission. As we all know, Tama has always been, and still, very innovative as the clear leader of the crop baling market. Many products and features that farmers are familiar with, such as longer rolls, Edge to Edge™ & CoverEdge™ technologies , stronger and lighter net, red end warning, RMW™ for cotton bales, and recently the new B-Wrap™ technology, were all invented and developed in Tama.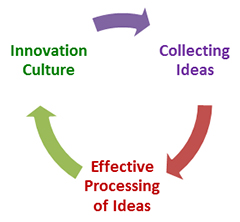 Still, the innovation unit in Tama was asked to bring more value to customers and push innovation in the organization even more, meaning: to have lots of ideas, to proceed and implement the valuable ideas and to strengthen an organizational culture that support innovation.
Our connection to farmers, through Tama people in each market, is strong, and many ideas are coming from "the field". We always listen and gathering ideas and try to evaluate them. For that matter we add the "innovation corner" that allow a convenient platform for any farmer around the globe to raise ideas and share thoughts that related to baling.
But, just having ideas does not make us innovative. We had to create a structural process in the organization to handle and promote ideas, using tools for innovative thinking and problem solving. We found out that an effective initiation process that connects all the relevant departments is significantly improving the chance to succeed with the project and shorten the total time that it takes until its final implementation. For that- we use the "Kite model™" that was developed in Tama as a great method to push forward new projects.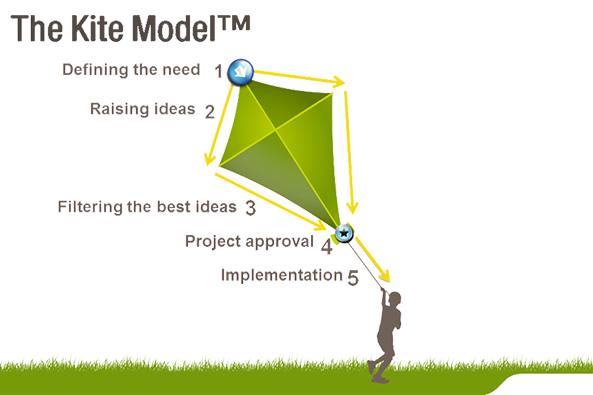 Finally, we need to have an environment in the organization, that will enable and encourage people to consider new ideas in an open minded way, and come up with new ideas themselves. This is a work in process, less "technical" and more behavioral and should become part of the organization culture & spirit. Managers across the organization have key role in creating this atmosphere and strengthen the desirable behaviors. You can find good example for that in the way manager react to a new idea his employee came up with, imagine the response: "we had already tried it!" VS "it's a nice idea let's think about it together!"… Another important point depend on the chance you give people to dare to try and explore new ideas, make mistakes and learn from it. Mistakes are many times could be a point of innovation!