In Ireland, everyone knows and likes the 'Black and White'… and we are not, necessarily, talking about the drink!
TamaNet Edge to Edge™, the easily recognized black and white striped netwrap has a strong following in Ireland among farmers and contractors alike. For busy farmers and contractors, netwrap consistency has become one of the main points to consider, Where time is money, wasted time is very costly. Farmer and contractor Kieran Jackman from Tullow, Co Carlow, said: "When I first began making round bales, I used all different types of net depending on what my local merchant had in stock. One day, he ended up with a roll of TamaNet Edge to Edge™ 3600m net and noticed that I now was able to use the roll to the end without ever having to stop to resolve a net problem. Usually, I would have to stop a number of times as other nets would fail to cut or feed."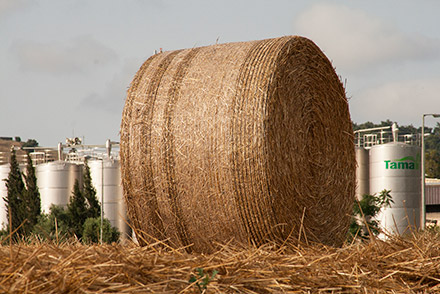 Kieran has used all the roll sizes of Edge to Edge™, from 3,600m right up to the latest 4,500m and has been happy with the net feed, bale coverage and net strength, "having the newer longer rolls reduces downtime in the field as it means less changing to do." Netwrap strength is also an important factor for Enniscorthy farmer Trevor James, who said: "As some silage bales are moved before they are wrapped, the net strength is very important. When using other, cheaper nets I've had to put a lot extra on to do the same job.
This resulted in the cost per bale being the same or even higher than when using Tama and meant a lot less bales per-roll so there was no benefit in buying lower cost rolls." Clare farmer Vincent O'Holloran from outside Ennis has been using Tama for a number of years. "When I started baling, I used different brands of net depending on what my local supplier had in stock, but experienced problems with them all at some stage. When I finally ended up with a roll of Tama, I was able to use it without any problems and since have used nothing else". Over the years, Vincent has moved with the different sizes of net from the 3,150m up to the new roll, which is 4,500m long. As well as using the different roll sizes, he has used Tama in different makes of balers. Vincent said: "The net performed well in all the different machines and never failed to spread full width on the bales. The strength in the net has been second to none and this is noticeable if bales have been handled before wrapping. Having a longer than standard roll is a great advantage" said Vincent.